Understanding Poverty in Lima
Mattie C., 1 semester; Fall 2017
Personal Project Summary:
I volunteered with the organizations Sígueme and Building Dignity. I chose to volunteer with these two organizations because they both work within different regions of Lima that face extreme poverty and many issues associated with poverty. Sígueme is a group of high school and university students that come together each weekend in a place called Pamplona Alta where they work to build staircases and houses, sell clothing, paint houses and provide for children in the area. During my time with Sígueme we built many staircases to provide access to homes built further up on the mountainside community, as well as put together a Christmas show and celebration for the kids of Pamplona (an area outside of Lima). Building Dignity is a well-established organization in the district of Villa El Salvador. Building Dignity runs various programs for children and youth in the region, as well as workshops for adults, as a way to unite the community and create a welcoming and educative space for people to share their ideas and work toward creating a more engaged and productive community for all. During my time with Building Dignity, I worked with the "horas públicas" program where we tutored kids on homework and did fun projects together.
I learned that living in poverty does not equate solely to a lack of money and resources. Rather, there are many layers of difficulty and injustice that plague people's lives on daily basis, making it so that even simple tasks such as bathing or going to school are made exponentially more difficult. In such regions as Pamplona Alta and Villa El Salvador, there are issues related to water, electricity, garbage, accessibility, healthcare, territory and safety, all of which affects the health, wellbeing and security of people living in these areas. It is remarkable to me, as well, how far removed such issues can be from other citizens and regions within Lima. I could have gone my entire semester in Lima without having witnessed the poverty of surrounding areas, simply because of the physical distance between such districts and how easy it is to ignore this social problem with so many other issues going on in Peruvian society. I am grateful for the opportunity to have understood the poverty and struggles of these regions as I did because it allowed me to better comprehend the different realities that exist in Lima and in the world at large. This experience was so significant to me and my learning process because I realized that studying abroad and being culturally immersed is not just about learning Peruvian "jerga", living with a host family, or even getting to know the transportation system that is so unique to Lima—being culturally immersed is to understand and experience a society in the reality that it faces, even if certain aspects can be harsher than others. Being culturally immersed is making meaningful relationships with all types of people despite your own cultural differences and inherent privilege. Sígueme and Building Dignity helped me to realize my own cultural immersion and to get to know Lima in a way I never could have otherwise.
Teaching Assistant at Villa Per Se
Katie Anne H., 1 Semester; Fall 2017 & Margaret G., 1 semester; Fall 2017
Personal Project Summary:
KATIE ANNE: During my time in Lima I acted as an aid in the classroom at an elementary school. I was working with a pre-kindergarden class that was learning English. I chose this internship because I felt a strong connection to the way the school teaches. They use a more holistic method with their students in order to educate the whole person. As a psychology major this really interested me and also compelled me to experience this specific teaching style. The school also takes in plenty of students with special needs and helping them socially definitely became part of the job, which I loved. It was also a perfect environment to practice my Spanish.
MARGARET: For my personal project I worked at Villa Per Se, an amazing elementary school based in Lima with a unique pedagogy that engages students through a holistic methodology called Asiri (Quechua for "smile"). I generally helped with all the activities and lessons that the teachers taught in their pre-k class. I would prep art supplies, make sure everybody was paying attention during lessons, and was just always there if the teacher needed something as it came up.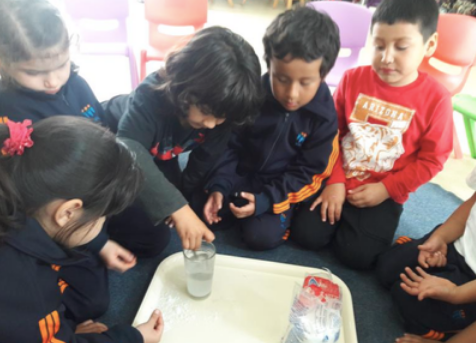 KATIE ANNE: I learned a lot about education and about the Spanish language. Hearing kids run around on the playground talking to each other helped me grasp a more everyday use of the language. I also felt this experience enhanced the feeling of immersion into the culture. Listening to the teachers and young kids talk about their lives, interests, and dislikes I felt I was learning more about Peruvian life and customs. Additionally, it made me think about how we treat special needs students and how we should be following this type of teaching style to create a more inclusive environment.
MARGARET: Throughout the semester, I was always reflecting on the differences between school in the United States and school in Peru. I learned that Villa Per Se also offers an education that is very unique in comparison to traditional Peruvian schools. Everyday, I could see evidence of their holistic approach to education and their enthusiasm for inclusion of every kind of student.